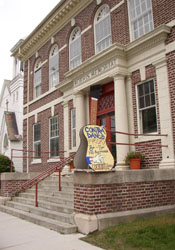 Directions to Morris Memorial Hall

The Morris Memorial Hall is located at 21 Park Row, Chatham, NY 12037. Look for the brick building with the distinctive curved windows just a few steps from Main Street (Rt 66) in the heart of downtown. Scroll down for an interactive map.

The hall includes plenty of family friendly activities, with a sitting area, games area, and a snack room. Please remove your street shoes before entering the dance area to protect the wood floor.

There is on-street parking in the immediate vicinity and a parking lot just around the corner by the old train station on Depot Square (now wonderfully preserved as the Kinderhook Bank).


---